Out of all the stories that could come from my trip over the summer, my favorite is this one. For those that know already, yes… This is the story of me leaving my passport on a bus and getting stuck in a foreign country, alone and away from my team.
It was quite simple in reality. We would leave from Penang, Malaysia on a small flight to Bangkok, Thailand. Then after a 17-hour layover in Bangkok, we would make the first of two long flights back to Dallas, stopping through Doha, Qatar. Oh and most importantly, hold on to your passport! As our trip was coming to a close, I kept reviewing all God had done over the trip in our hotel the morning of our departure. God touched the lives of so many young children in a deeper way than I have seen in America. A demon was cast out of a woman and doors were being opened into unreached nations where the Gospel is illegal to be preached! Everything was great. I took my passport and just to be safe, I tucked it in the pouch in front of my seat on the bus going to the airport along with my water bottle and my hat.
Bad idea.
We got off the bus from the resort to the airport and we all walked in to the check-in desk. We stood in a long line, only making it longer with our big group, waiting to catch a flight only just an hour or two from take-off. As we approached closer to the desk, our leader told us to get all of our tickets out along with our passports. I searched through my bag only to avail in nothing. My tickets were to be found… but the passport? Nope. I kept checking the same spots in my bag over and over and over again until every piece of dirt in my bag had been spotted. Still, nothing. Panic swept over me as I remembered quite clearly where it was. It was still on the bus. I thought to myself then that the next day or two wasn't going to be the funnest of days, although I ended up being wrong. I walked over to tell my leader and the words that came out of my mouth first are some that still make me laugh today… "OK, Emelen! Don't be mad………………… But I left my passport on the bus." His response passed right over that middle part about being mad. But why shouldn't he be? He's responsible for me and I've just messed up, big time! As he told everyone to start praying over the situation, he took matters into his hands to do what he could. We were on a time limit. A very short one, I might add. Phone call after phone call was made to any and every person we could call in the area. I'm not sure who all exactly we called but I know that a few too many phone calls were made, to my relief. After we finally got a hold of someone and let them know of the situation, they called back and said that they were doing all they could to get to that bus and get the passport. Panic still hasn't left me. They called back again a few moments later and said that the passport was received and that it was headed to the airport as fast as they could. OK! So it's headed to me. Everything should be fine, right? No. Traffic was heavy in that hour of the morning and it was a difficult to be able to get to the airport before the flight left. So, my leader then told me to go outside in the drop-off area and wait for the pastor. My leader was going to leave me there by myself because he had another 15 or so people that he had to get on a plane. I had to do this on my own and with God. For situational purposes, he gave me some money just in case anything was needed. They went ahead and checked in as I stayed outside. I'm still very nervous.
All I could do was stand on the curb, pray and believe that the passport would make it on time. Every minute ticked away as if it were eternity. I was dreading all that was happening. It was then that I felt God tell me that I needed to be quiet. Now was not the time to panic and not think correctly. Now was the time to believe Him that this all would work together for my good, no matter the outcome. So, standing on the curb with my huge suitcase and my backpack, I calmed myself and started believing God for the things needed. Ask in prayer, believe that we will receive, and we shall receive! (Matthew 21:22) The time grew closer and closer to departure. I still stood firm in my belief in God. With still just a few minutes to spare, the pastor drove up with my passport in hand ready to give it to me. We both walked quickly inside and went up to the counter only to result in dismay. The "Thai Airways" check-in booth had been shut down since the flight were suppose to get on was their only flight that day from Penang. Great. So, my flight hadn't even departed yet, but I cannot get to them because I cannot check in. As I argued with the man at another airway's check-in booth, I began realizing that I would not be stepping on that flight. We stepped away from the counter and the pastor told me that he was going to go outside and park his car, because it was parked in the drop-off section which is not allowed, and come back in to assess the situation. I waited at a KFC for his return, constantly pondering on what I am going to do now that I have missed my flight. He walked up and we talked about buying another flight that day to Bangkok through a different airway. We looked at the booths and found one that seemed to work, but it's departure time was 6pm.
Everyone on our team kept looking at the 17-hour layover in Bangkok as turmoil and pain knowing it was going to be annoying to sit around in an airport for 17 hours straight, but it was turning around in my favor. It was still early in the morning and I had several hours before my flight to Bangkok departed. Oh, and I had just now told my family of all that was going on. I did not want them to be too worried so I only told them after I got it resolved. Pastor, who I have not named on purpose for security reasons, offered me to stay in their ministry's guest house until the time came for my flight. As we left the airport, we stopped to grab breakfast and talked for some time about all that God was doing in our lives. He poured his heart into me about his past, his coming to Christ, and where he is today and it all inspired me. Even among a country, Malaysia, where preaching the Gospel is allowed, Christians are still persecuted because of the Muslim voice in the area. In fact, some parts of Malaysia are governed by sultans. He isn't even allowed to have a Bible in their local language! We continued after breakfast over to buy snacks for me during the day. Afterwards, we arrived at his guest house. The place was so nice! It wasn't anything like the hotels we had been staying at in the rural areas. He showed me a room to stay in and left to go do some work for his church.
The time there was bittersweet. I was sick most of the trip in all of Southeast Asia, and I was sick still with stomach troubles during this time. Yet, through all of that I still had a supernatural joy that seemed to overcome me. I couldn't even nap and sleep to pass the time. I had Bryan & Katie Torwalt playing on my phone the entire time and just couldn't be more happy even amidst the entire situation at hand. At around 4pm, Pastor picked me up and we made our way back to the airport, with my passport tight in my hand too! He dropped me off at the front and I personally thanked him for helping me out and seeing all of this through, even when he didn't have to. Great to meet people in a  different place in the world who have a burning desire in their hearts to see even the most persecuted places turn to Jesus.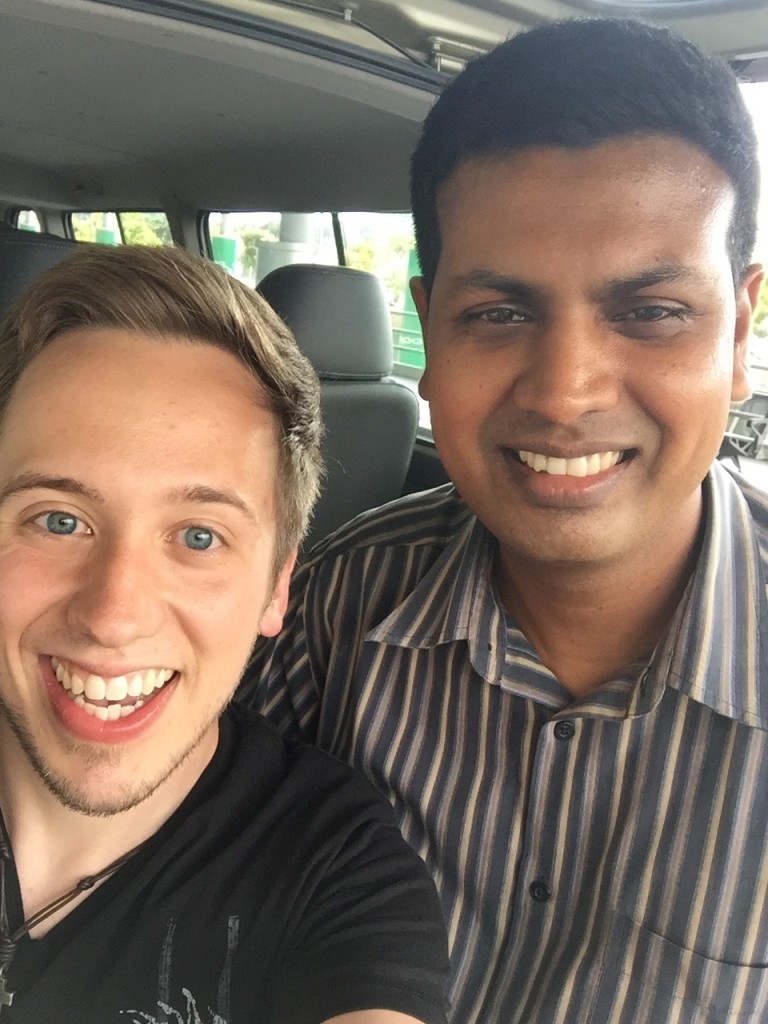 I made my way in, checked in, and went on through to sit at my gate. As I sat, I realized just how at peace I had been about everything. Not a single bit of worry was upon my mind and I walked around with Jesus. The next day didn't matter. All that I set my mind to was the moment of the present. I got on the plane and watched some of the most beautiful sights I had seen to this date. The picture featured on the top of this page was captured on that flight, and are unfiltered, as well as the one below.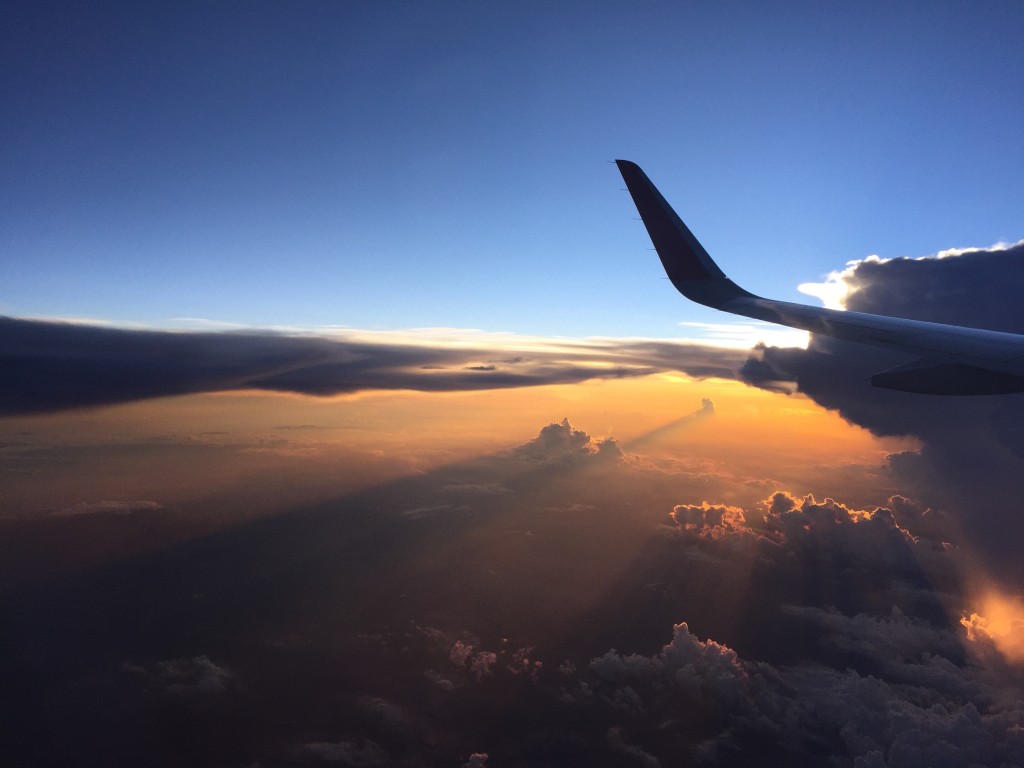 The sights were great, but I also had a profound peace stilled on the inside of me. It wasn't just a peace that said "Everything will be OK", it was a peace that whispered, "You're at home." God was commissioning me to Southeast Asia as a missionary. This would not be my last trip here, but will remain the first of many, many to come.
The plane landed and I walked out and made my way over to customs. I kept thinking how awesome it was that I got my own experience aside from the group. I was literally walking by myself with God halfway across the world from the US. My future was starting before I even knew it. Upon landing, I also notice that just like many cities in the US, there was not just one airport in Bangkok, but two! I was at the wrong one, of course. This didn't bother me at all. A friend of mine on the team had been talking to me via Facebook during most of the event whenever I had Wi-Fi access. She looked some things up and found a bus going between the airports that was free! Good deal! I walked outside and over to the bus, talked to the operator and was told that I could not catch a ride unless I had my ticket showing that I had a flight at the other airport. Which I did not have, of course. I just had my itinerary which wasn't good enough for them either. Alright… So now what? All I could do was laugh. I looked around and saw a sign for a taxi service. I went over to the counter and talked to a man working there. He spoke great English to my relief. He spoke about what they could do and I told him what I needed. Then he responded with the price. Then I asked him to repeat the price. I then asked him to repeat it once more. It was going to cost me USD$80 to get a taxi to the other airport which was only about 45 minutes to a hour away. To me, this was frustrating as I could have simply gotten on that bus for free, but I did have a peace in my heart about it. After all, all I needed to do was catch up to the group before 4am and when I landed, it was only 8pm. So I paid the man the money and waited for my taxi to come to the curb. To my enjoyment, this wasn't just a taxi car with some digital things inside counting the miles. This was the driver's actual car he used to drive around. I don't remember the model or make, but it was like a Lexus or something really nice. As he drove me on my route we talked and I told him my story of what was going on and he just laughed. I laughed as well. The devil tried to scare me from ever returning to this place yet God had different plans and turned the entire situation around simply because I believed. (Romans 8:28)
I arrived at the airport, thanked the driver for his hospitality and walked inside. I recognized this airport because it was the same airport we arrived in just three weeks before. I walk upstairs, around many corners, and finally to the area with the check-in booths. Typically, it wouldn't be that hard at this point, but the area alone that had all the check-in counters seemed like it was the size of a stadium. There had to be hundreds of counters. I searched around and searched until I finally realized I could not find the Qatar Airways counter because they were not open yet! Oh yes, and around this time I also dropped my itinerary. Great. Anyway, I sat around for a few hours and 11pm rolls around. Qatar Airways' counter opens up. I wasn't even sure if I could check in, because I did not have my itinerary but I ended up finding out that you just need your passport and you're fine. I made my way over to the gate where everyone was situated. As I walked down a friend of mine saw me and ran to me and hugged me. In fact, it was as if he had jumped and latched onto me. It definitely ranked one of the highest greetings I've ever gotten. All of the group that was awake saw me and kept asking me about it all and if I was scared. Of course! I was scared, yes. But only for the first 10 minutes after God told me to be quiet and believe Him. Since I had caught up with them, I no longer needed anything. Just to board planes, hold on to my passport, and cruise peacefully with them.
What the devil made bad, God turned into something even better. The devil intended to scare me, but instead I was called back. My future is in all of Southeast Asia. I couldn't be more excited to see all God is going to do in nations that are closed to the Gospel. It's time the church got up and did something about reaching the dangerous places, not just the peaceful ones! Please consider helping out a ministry that helps unreached nations. If you don't know of any, you can start with Power of God World Missions and their website here.