Aside from all that God is doing in me, I have done so much in just a short amount of time here in Thailand! This update is an overview of my first few weeks in Thailand as a missionary. Some of my updates are longer than others, but as a friend and supporter, I am sharing my journey on the mission field with you!
The school here consists of a new module to teach each week – sometimes two at a time. Typically each morning consists of prayer lead by one different person from our team. This is when we intercede and pray over things that are put on our hearts. It has consisted of just worshipping Him, praying over the lost people of Thailand, or praying over ourselves and friends and family back home. I'm running toward anything I feel stretched in so that I can grow. It's been a blessing to see what God's been putting on everyone's heart to speak on.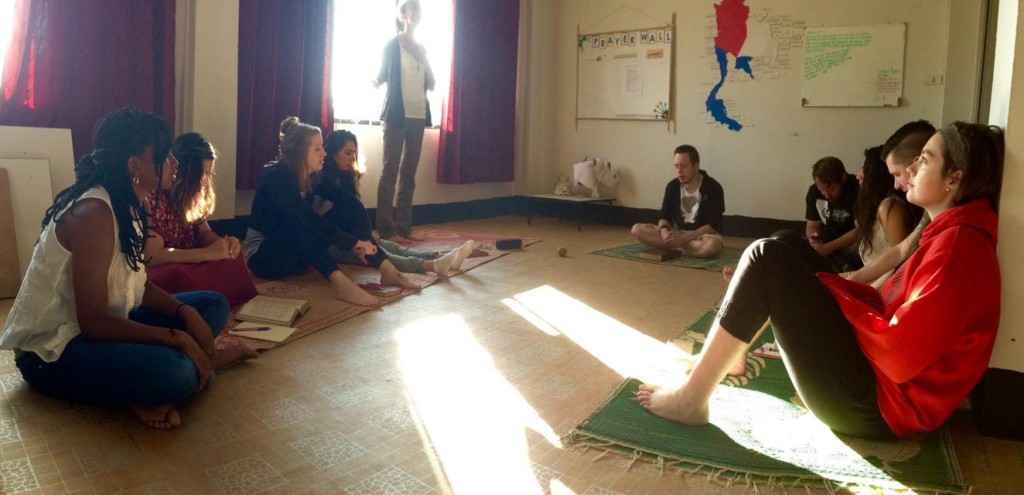 Class starts after prayer each day and these are when the modules are taught. They can contain things such as the Role of the Church, Discipleship, Medical Missions, etc… God has opened up my eyes to so much in the mission field. Learning about the cost of being on the mission field only makes me want it more. If it means more of Him and less of the life I think I want, then it is a life worth living. Soon, I will be living on the front line of the Kingdom, going and living in places where the Gospel is illegal.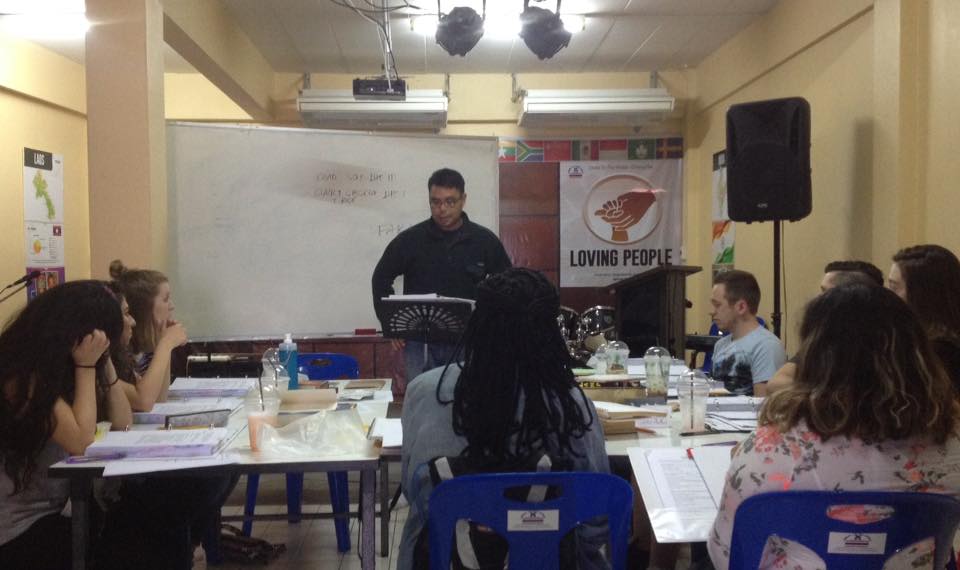 After class, we have to cook lunch for ourselves. The cuisine here in Thailand is exquisite! They have different noodles dishes ranging from Pad Thai to a dish called Pat See Ew. My favorite so far has been a soup called Khao Soi Kai, with the "kai" meaning chicken. It's fried egg noodles with a chicken leg in a soupy, red-orange broth. Not sure what the broth is made out of and frankly, I'm not sure if I want to know! It still tastes amazing.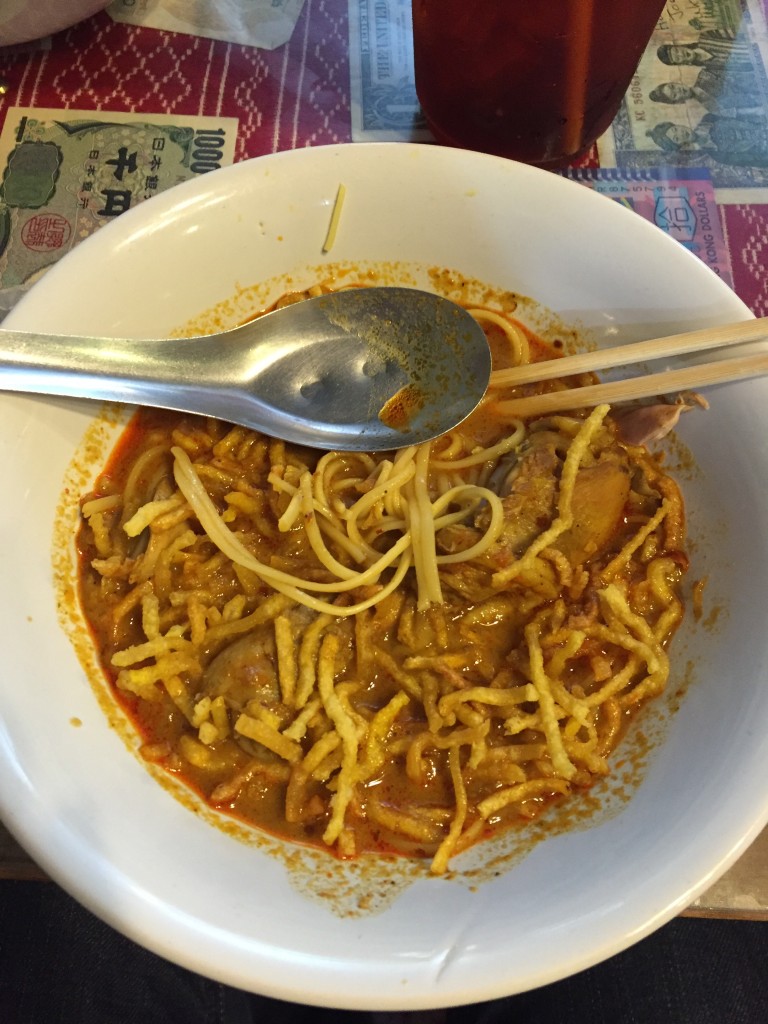 After we eat, we usually head back for a different module, but most of the time has been a lot more practical than just a classroom experience. We've had language tutors to help teach us Thai, but the process wasn't about us learning Thai; we were discovering a new way to learn new languages whatever language it might be. This process is called LAMP, or Language Acquisition Made Practical. It has been a fascinating way to learn a language. Instead of learning basics like simple one-word translations, you dive into any given language and learn phrases right off the bat. You then take these phrases and you walk around an area you choose and simply use the phrases to interact with the locals all around. This helps you memorize things such as "Hello, how are you?" or "I speak a little bit of (language)." Or even questions like "What is this?" and in doing so, your brain uses this repetition to drive it into your memory to where it eventually becomes reflex. The best part about it is that you can have conversations with the locals in just a matter of a few weeks! That is where it strikes its most important characteristic. It also helps you build relationships with the people around you. This kind of language acquisition is key for front line missions since it's so relational. The people get incredibly cheerful to hear you're attempting to learn their language and a relationship starts building right off the bat. What better way to encounter more people in an unreached nation than simply you trying to learn their language? Skip the 2-year process to learn the entire language and just get enough to learn the basic conversational phrases. The people pictured below are the interns with our LAMP tutors who are all local Thai people. My LAMP tutor, Am, is just right behind me on the right.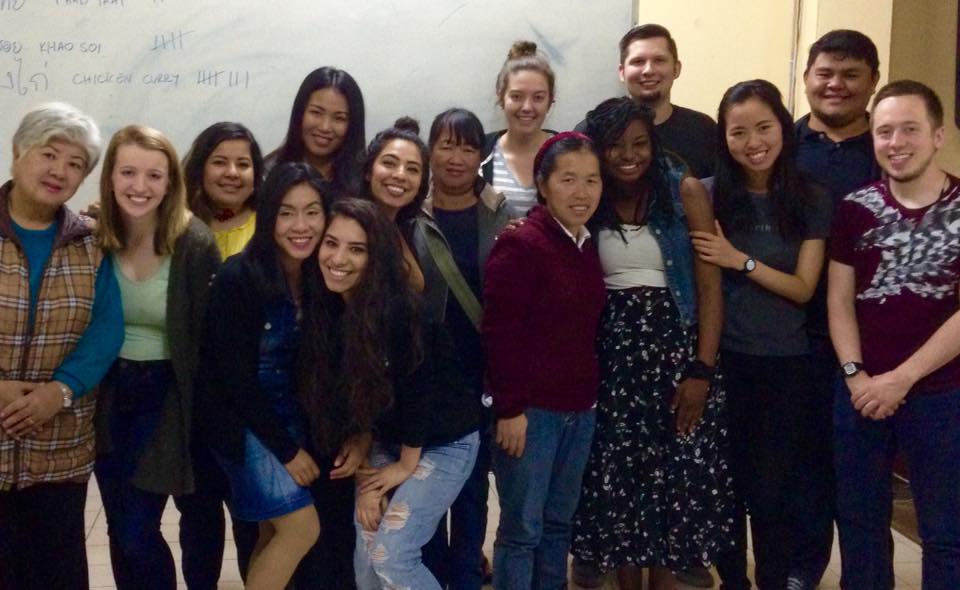 2 weeks ago, we were swamped with a week filled with the module "English Camp." This is exactly how it sounds. Everyday, we went to a nearby school called Chiang Rai Vocational College to help teach English to the students studying there. I have taught English before, even at this very school, but I have never had to lead a class or even teach a class on my own. It is stretching, but only for the better. I came out a more confident man, sure of my abilities to teach. God used us to bring joy to the kids as we incorporated games into the teachings. As a relationship was building between student and teacher, we then invited them to an outreach that the organization we are studying under does during the week. This outreach is one where they give the students guitar, voice, piano, and drum lessons for free! Their only obligation is to show up each week. So as we poured out our abilities in English teaching, the kids that responded to the invitation to get lessons will soon be given the opportunity to change the course of their lives forever.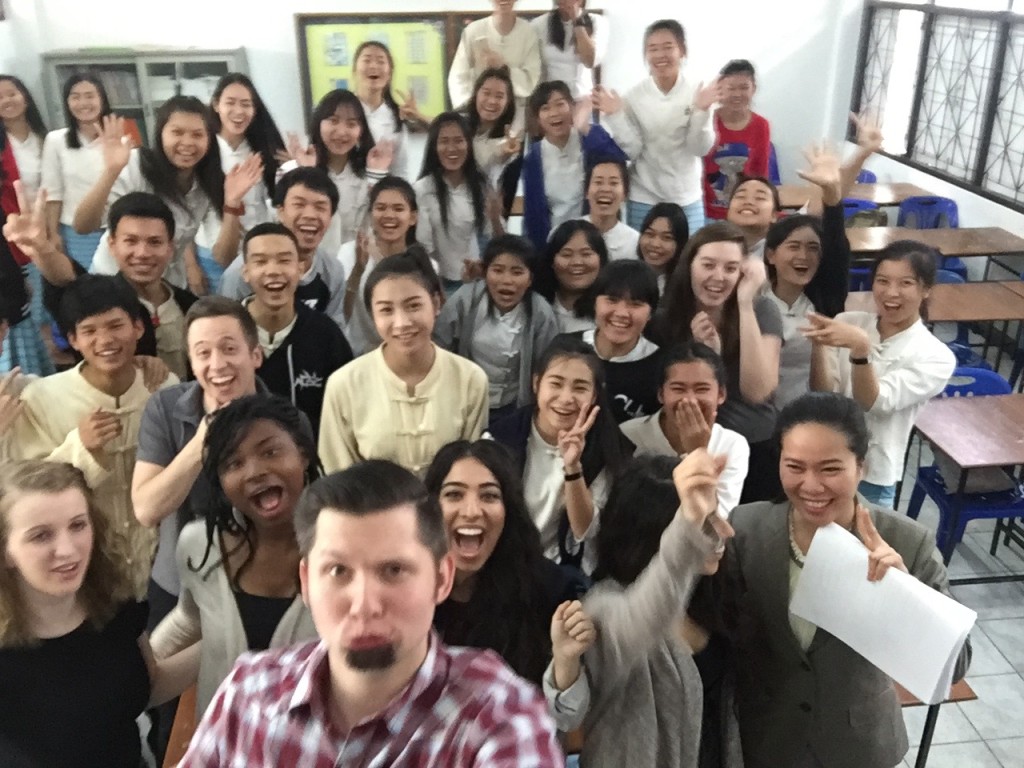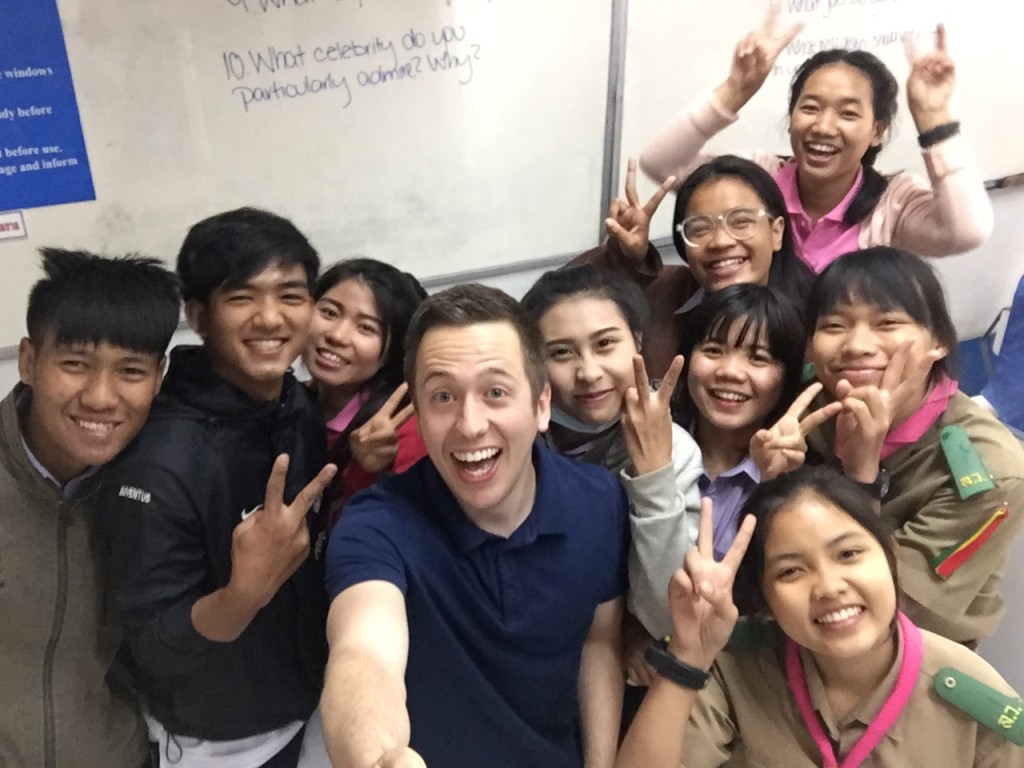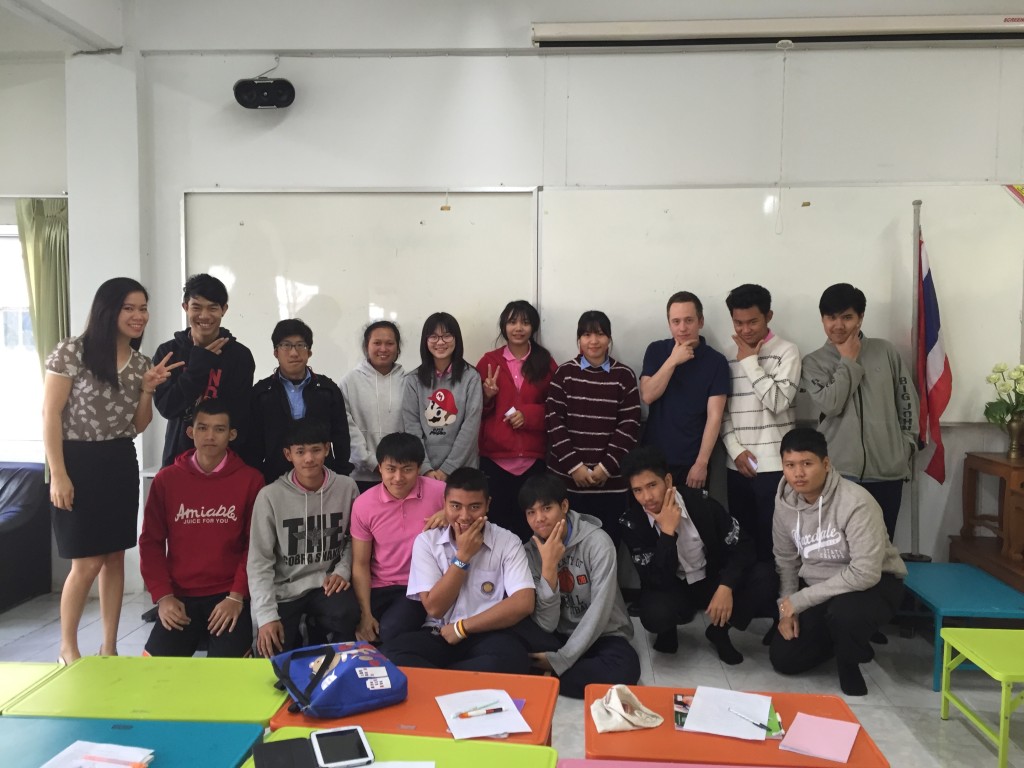 Just this week we have been renovating a church that we use for our school. It is a four story building that has offices, classrooms, and a sanctuary all in itself. Businesses here in Thailand typically all have the same layout when it comes to their buildings. The bottom floor is usually their business related stuff and the floors above it are where they live. Just recently the organization here bought the two sections, like columns, in the middle of the complex, leaving the three sections on the right to their organization. We are helping to knock down walls, repaint, and restructure a lot of the upper floors to design a new sanctuary for them as they are getting more and more people to hear about Jesus!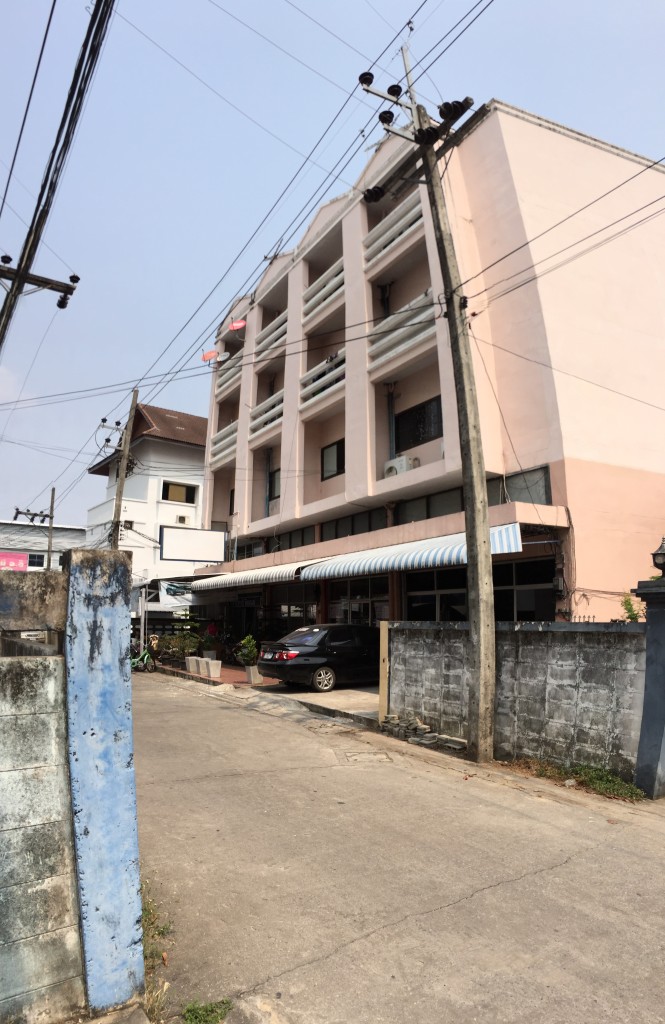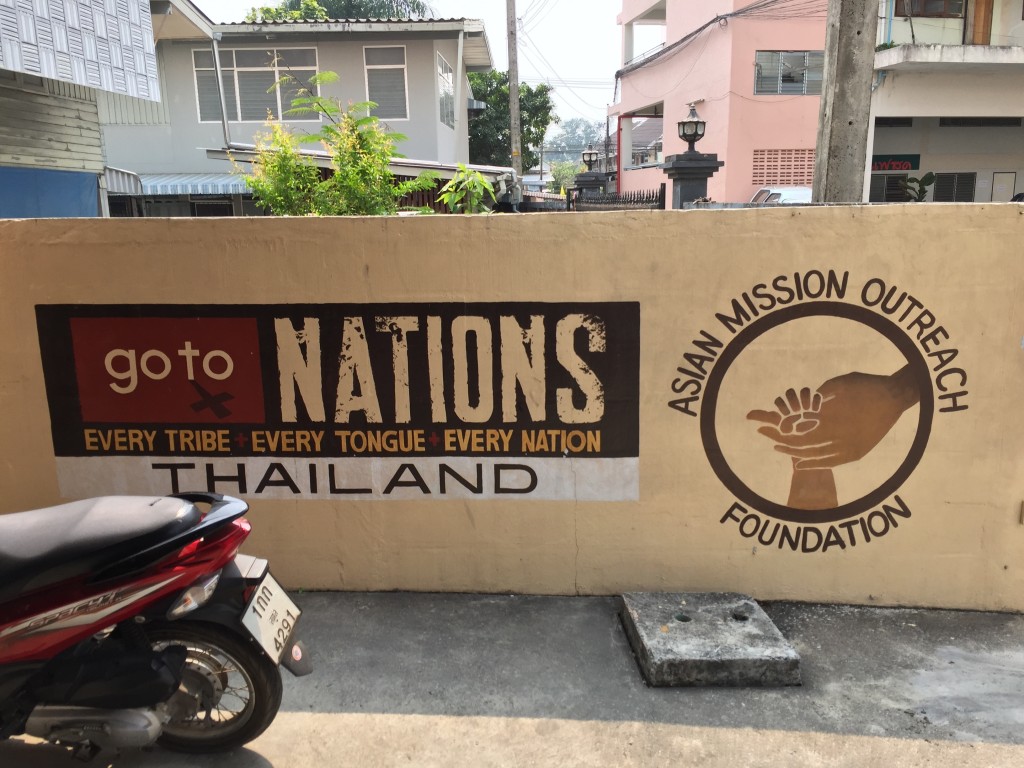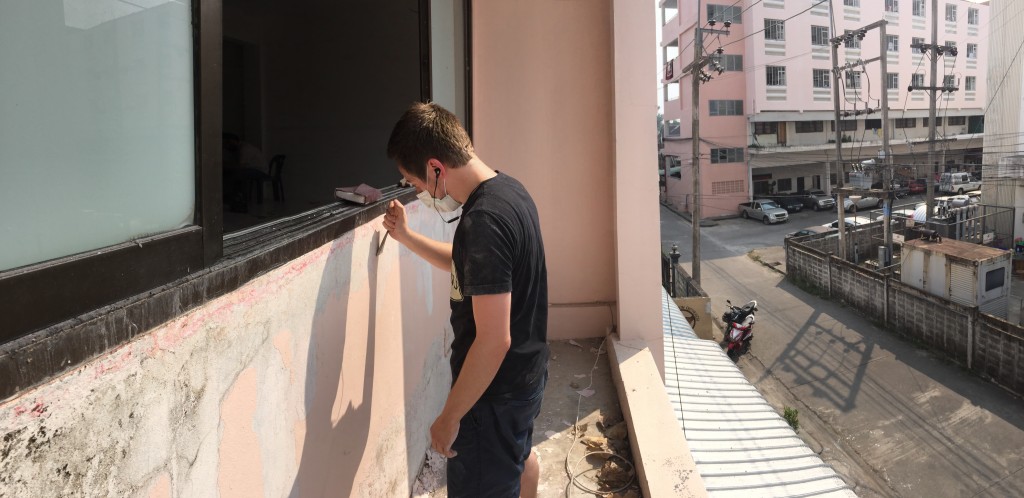 I've been beginning to understand one of the most important factors for missions in non-Christian nations especially unreached ones. It's about relationship. Here in Thailand and even in most of Southeast Asia, Buddhism reigns here. You can build your stage and give a message in a big venue out in public or even stand on the side of the road with your mic in hand and preach the Gospel, but once you start mentioning God, their attention dissipates. No one cares what you have to say because they don't know you. They have no idea if you really care for them or not. As the saying goes, "No one cares how much you know until they know how much you care." When it comes to nations that are unreached, this is even more so as you cannot set up a stage and just start preaching the Gospel. Now, God does open doors for people on the occasion to go into dangerous places to set up a stage and peach the Gospel to people who've never heard before as God did with Reinhard Bonnke in Africa, but this isn't the basis for every person planning to go to unreached nations. It's all about relationship. We don't really fully realize how much God loves us until we begin a relationship with Him. The same goes for people out in missions. They will never know about a God who loves them so much that He died for them until someone starts getting to know them personally.
I couldn't be more excited to head out to the field to bring the Gospel to people who shun it. Just a decade ago, the number of people who had never heard the Gospel was 2 billion. Today, this number has risen to almost 3 billion. If the church keeps doing what we're doing, Matthew 24:14 says the end will never come. He said "the Gospel of the Kingdom will be preached in all the world as a witness to all the nations, and then the end will come." The amount the church gives to unreached nations right now is 1 cent for every dollar given to missions. The church is sleeping. We have "Awakening" on all our posters and album covers yet we are keeping this awakening for ourselves. It's time we bring this revival out to the nations of the Earth where we have yet to step foot on. Every night 75,000 people leave this Earth never getting a chance to hear the Truth of Jesus. Help stand for the unreached people of the Earth! Whether they realize it or not, their spirits on the inside are crying out for a God who loves them more than anything in this universe. Will you help bring that life-changing light to a people who are dying, crying, and lost?
If you would like to be a part of these missionary endeavors, you can head to powerofgod.kindful.com and select " – Missionary Michael Biggs" under the dropdown menu. Every cent will help go towards missions work only! I appreciate all your support and prayers.